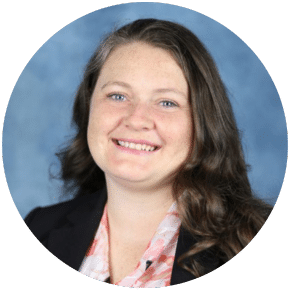 Katherine Wright
Financial Coach
Email: kwright@finpathwellness.com
Background
Katherine "Katie" Wright is a Financial Coach for FinPath. With over ten years' experience in the industry, and now with FinPath, Katie has seen how financial habits and knowledge can change the course of someone's life. Katie's passion lies in inspiring families to take the next step in their journey towards financial independence. By providing financial resources and guidance, Katie helps you walk through creating a strong foundation for your financial plan. Katie earned her BS in Business Finance from Cappella University.
Areas of Focus
Tackling your debt

Understanding your credit

Creating a budget that sticks

Facing your student loans

Creating a plan for saving

Working toward a debt-free life
How It Works
Schedule a meeting at your convenience
Meet via desktop or mobile device
Speak one-on-one in a confidential session
Schedule a meeting with Katie
Hello, my name is Katie Wright and I'm here to help answer your financial questions. No matter what stage of life you are in, my goal is to help relieve your financial stress so you can spend more time taking care of what's important to you.
Please schedule a Financial Coaching session with me to get started!